GRATITUDES:
1. Waking up to another pretty morning
2. My kid's amazing talent
3. My husband's ability to make me laugh
4. The taste of peak summer berries
The rumors are no longer just rumors. My doctors and nurses are planning on sending me home tomorrow after my blincyto bag change, which will probably happen around 4pm. It's a bit of an awkward time but since Rory has to drive Lauren to work by 5, he can come down and pick me up after that and we can go get some dinner while waiting for the Friday evening traffic to thin out a bit. Then we go home and wait to hear about two things: the results of the MRD test on my marrow sample (please God, let it be negative), and whether my donor is ready for tissue retrieval. The test results should be available in the next week or so but the donor may not be ready for another several weeks. Time to float…
Blurgh. I was broadsided by some news earlier this morning about another patient here in the unit. Apparently she's young and has been given the worst possible outcome of her disease, the kind that there's no coming back from. I'm sure Racquel, my PCA, wasn't supposed to tell me anything about it but she was upset by it, especially after receiving a page from the patient while still in my room. Only doctors and immediate family are allowed in a patient's room while being given this prognosis and Racquel had to tell this poor bunny that she wasn't able to see her yet. This has to be the worst part of the nursing profession: seeing young patients succumb to this seriously fucked-up disease. There's no sense to it. It's entirely random and yet we as humans desperately try to attach some significance to it in order to understand the unknowable.
And now for something completely different – a new painting from my kid: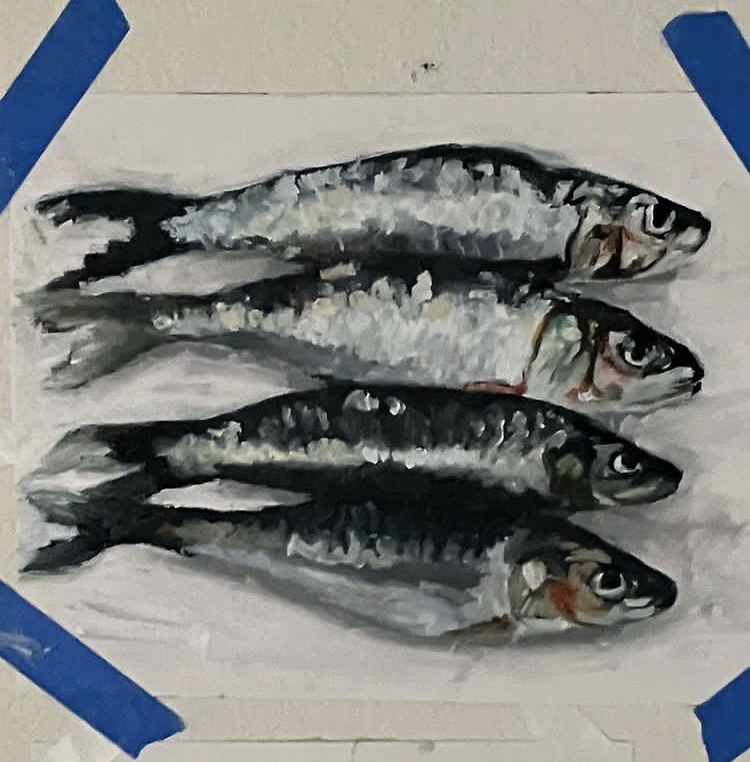 Basil posted the photo on Instagram so I could only grab a screenshot of it – the picture quality isn't the best, but… FISHIES!!!